For the greater part of the last century until today, FMC's sprawling complex has played a key role in the growth of the company, but also in the heritage of the Village of Middleport. Originally founded as the Niagara Sprayer Company in 1904, the plant was purchased by FMC in 1943 and became the headquarters for its agricultural products business.
Today, FMC headquarters are in Philadelphia. Although formerly a chemical manufacturing facility, the Middleport Agricultural Sciences plant is a formulations plant, mixing and packaging a number of key product lines used on nearly 100 different crops in more than 75 countries around the world.
FMC is proud to be one of the largest employers in Middleport. We have a dedicated and loyal workforce demonstrated by low employee turnover. FMC is a significant contributor to the Niagara and Orleans County communities and is supportive of the United Way, American Red Cross, Royalton-Hartland School District and many community groups.
We encourage you to contact us online or call our Community Relations Office at (716) 735-9769. Click on these links to find out more about our 8 S. Vernon St. office, and our commitment to being Middleport's Valued Neighbor.
You can also click on the latest FMC Middleport Fact Sheet.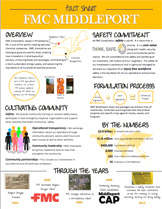 FMC Corporation's Agricultural Sciences Plant in Middleport recently hosted its annual Safety Day for plant employees with area first responders and featuring presentations and demonstrations
Read More »
Take a tour of FMC Middleport
©2023 FMC Corporation. All Rights Reserved. FMC, the FMC logo and all trademarks, service marks, logos, business names and trade names are the property of FMC Corporation and/or its affiliates or licensors in the U.S. and/or other countries.