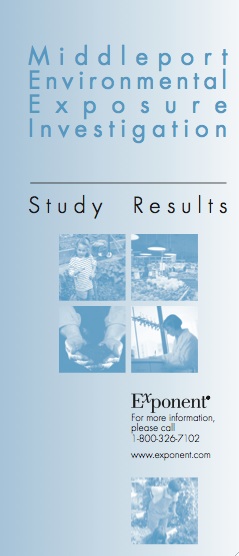 Dr. Rosalind Schoof, an internationally recognized expert on arsenic in the environment, led a team that evaluated potential health risks associated with exposure to Middleport soils as part of the CMS in the suspected air deposition and Culvert 105 study areas. Dr. Schoof conducted this study for FMC, and has prepared a document describing how the risk assessment will be performed.
Residents were invited to attend Dr. Schoof's sessions on November 4 and 5, 2009 to learn about the study and how they could participate by providing information on a survey. The survey was conducted to provide information about residents' regular activities on their residential property in the CMS study area and was completed and the responses were tabulated on December 7, 2009.
TO VIEW DR. SCHOOF'S PRESENTATION CLICK HERE.
TO VIEW THE RESULTS OF THE MIDDLEPORT SOIL EXPOSURE SURVEY CLICK HERE.
©2023 FMC Corporation. All Rights Reserved. FMC, the FMC logo and all trademarks, service marks, logos, business names and trade names are the property of FMC Corporation and/or its affiliates or licensors in the U.S. and/or other countries.