OU6 – Tributary One South
Operable Unit (OU) 6 consists of Tributary One and Flood Plain, south of Pearson Road and is identified in the yellow-colored area in the right/middle of the map below: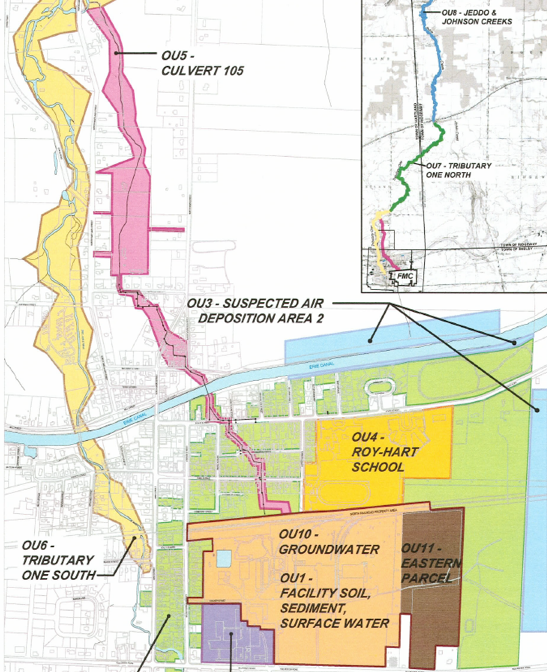 RCRA Facility Investigation (RFI) Report Volume V for OU6 was public noticed and approved by the Regulatory Agencies in 2010 pursuant to the 1991 AOC. A draft Corrective Measures Study (CMS), dated November 2017, was submitted pursuant to the 1991 AOC, with NYSDEC comments provided on February 1, 2018.
FMC revised the draft CMS report in 2019 and re-submitted in December 2019. FMC will respond to any NYSDEC comments on the draft report, make revisions to the report if needed, and participate in the public review/comment process for the draft Corrective Measures Study (CMS)/draft Statement of Basis and issuance of the final Statement of Basis (SB).
©2023 FMC Corporation. All Rights Reserved. FMC, the FMC logo and all trademarks, service marks, logos, business names and trade names are the property of FMC Corporation and/or its affiliates or licensors in the U.S. and/or other countries.