Operable Unit (OU) 5 consists of Culvert 105 and Flood Zone, including the Wooded Parcel, and is located in the magenta-colored area in the middle of the map below: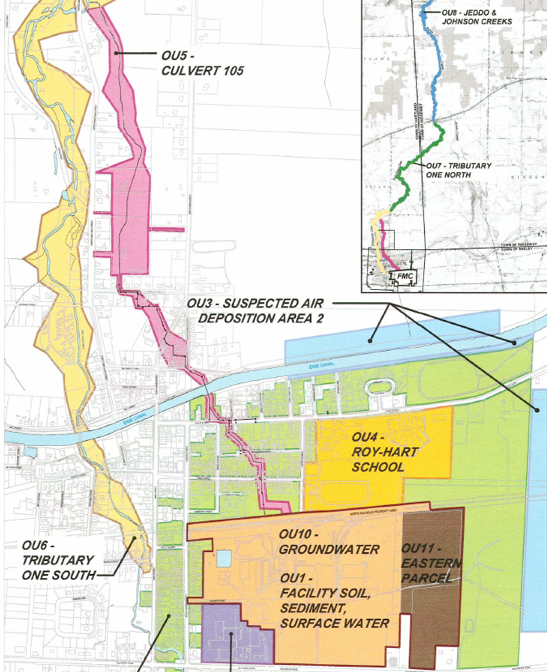 RCRA Facility Investigation (RFI) Report Volume IV for OU5 was completed and approved by the Regulatory Agencies in 2009 pursuant to the 1991 AOC. A Corrective Measures Study (CMS) was completed in 2011.
A Final Statement of Basis, dated May 2013, was issued by NYSDEC pursuant to the 1991 AOC. The NYSDEC has been implementing the remedy since 2015, which is partially completed.
FMC conducting 2021 Off-Site Remedial Activities in the Village of Middleport, including those in OU2. Click here to view the Community Update/Fact Sheet
on the activities.
NYSDEC has approved FMC's Off-Site Investigation and Remediation Work Plan for 2021 Activities that includes advancing remediation in OU5. The Work Plan can be accessed here.
FMC Corporation has received approval from the New York State Department of Environmental Conservation (NYSDEC), in consultation with the New York State Department of Health (NYSDOH), for field implementation in 2020 of the Pre-Design Investigation Work Plan for the "Culvert 105 Study Area North of the Erie Canal" that includes portions of the Village of Middleport. Click here to see a copy of the Work Plan.
©2021 FMC Corporation. All Rights Reserved. FMC, the FMC logo and all trademarks, service marks, logos, business names and trade names are the property of FMC Corporation and/or its affiliates or licensors in the U.S. and/or other countries.