Operable Unit (OU) 1 consists of the FMC Facility Soil, Sediment & Surface Water, excluding Eastern Parcel, OU11. It is located in the tan colored, lower middle area of the map below: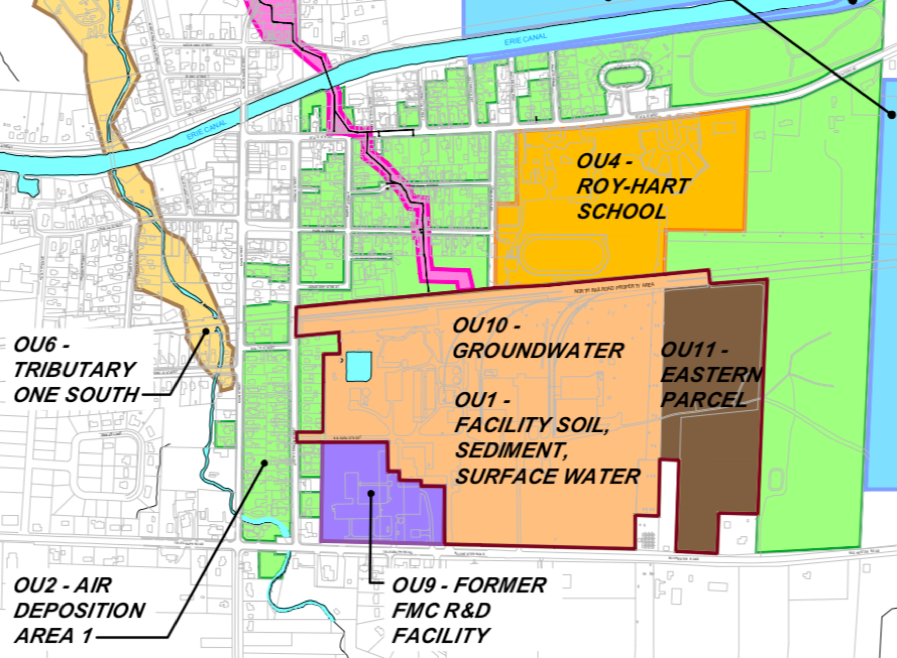 Previous OU1 work includes the Western Surface Impoundment (WSI) Hydrologic Evaluation, North Site Cover (NSC) Evaluation, vapor intrusion annual updates, and a draft RFI report submitted January 1999. Operations, Maintenance, & Monitoring ("OM&M") plans for existing ICMs: NSC, North Railroad Phases 1 and 2 ICMs and WSI Operations Plan.
FMC submitted a revised WSI Operations Plan on November 1, 2019 pursuant to the new 2019 Order on Consent.
Continue operations, maintenance, monitoring, and optimization of existing ICMs at the Facility.
FMC is continuing construction of groundwater and surface water upgrades at the Facility, including installation of three new 600,000-gallon storage tanks and associated water transfer systems, an addition to the existing Water Treatment Plant (WTP), and other upgrades to the WTP.
The 2019 Order on Consent includes future work that will evaluate and optimize, if needed, existing Facility ICMs.
©2023 FMC Corporation. All Rights Reserved. FMC, the FMC logo and all trademarks, service marks, logos, business names and trade names are the property of FMC Corporation and/or its affiliates or licensors in the U.S. and/or other countries.