New York State Sen. Robert G. Ortt (R-North Tonawanda) toured FMC Corporation's Agricultural Sciences plant in Middleport this week and presented workers with a proclamation celebrating the 75th anniversary of FMC assuming full operations of the plant.
In issuing the proclamation, Sen. Ortt noted specifically FMC's planned future investment in the plant, the plant's economic benefit to the community, new hiring efforts, corporate environmental goals, and workplace safety records.
"The company is an important contributor to the Middleport and eastern Niagara County economies; that economic contribution is set to grow as FMC makes major investments in new employee hiring, product offerings and capital improvements at the Middleport plant," the proclamation stated.
Plant Manager Brent Sensenich is looking to hire seven new employees, increasing the plant's workforce to over 70, to meet global demand for agricultural science products to protect and increase food supplies. The Middleport plant formulates and packages a number of key product lines to protect over 100 crops in more than 75 countries worldwide.
"FMC's Agricultural Sciences Plant in Middleport plays a key role in FMC's global leadership position in agricultural sciences," Sen. Ortt'sproclamation further stated.
"We appreciate very much Sen. Ortt's support for industrial facilities and his encouragement on our 75th anniversary as we continue to work hard for the betterment of our local community and to provide sustainable employment opportunities in our region," Sensenich said.
The proclamation recognized that "FMC is also committed to the safety of its employees, with ongoing safety training to keep workers safe at home and on the job; that commitment has enabled the Middleport plant to go more than two years as an accident and injury-free workplace without an OSHA recordable incident."
Regarding environmental goals, FMC announced in August the goal to achieve net-zero greenhouse gas emissions by 2035 and will use science-based targets aligned with keeping the global temperature at one-and-a-half degrees Celsius above pre-industrial times.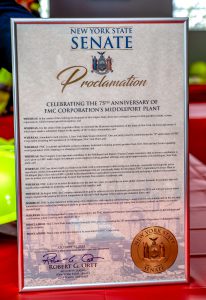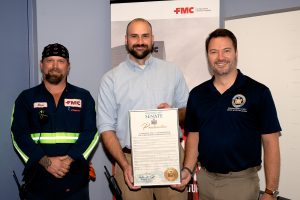 FMC Corporation's Agricultural Solutions Plant in Middleport celebrates its 75th anniversary of full FMC operations with New York State Sen. Robert G. Ortt (right) presenting a proclamation on his behalf recognizing the occasion and the plant's contributions to the local Middleport and eastern Niagara County economies. Accepting the proclamation are Brent Sensenich (middle), FMC Middleport Plant manager, and Alan Ledford (left), plant employee and member of Local 1180 of the International Association of Machinists and Aerospace Workers.