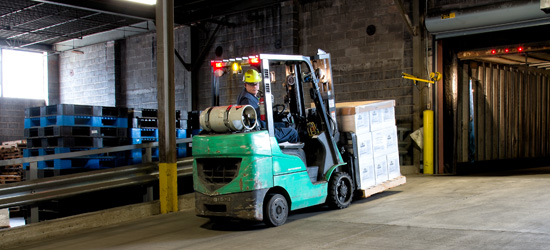 Key FMC agricultural product lines are formulated at Middleport, including Command®, a herbicide used on cotton, peas, soybeans and sweet potatoes. A number of other products are also mixed and packaged in smaller volumes.
FMC also is investing in new biological technologies and products to help growers of fruits, vegetables and row crops, like corn and soybeans, who are seeking more crop protection solutions that reduce impact on the environment.
While we have not manufactured any chemical products in Middleport since 1985, the mixing and packaging facility is one of FMC's largest formulating plants. The active ingredients required to formulate our products are produced at other locations and shipped to Middleport, where they are mixed and packaged according to strict standards and best practices. During this formulation and packaging process, our monitoring equipment, including collection and ventilation systems, automatic shut-down controls and safety interlocks, leak prevention and containment systems, help to protect our employees, neighbors and the environment.
The Middleport plant supports growers' requirements for a variety of formulations, including dustless powders, micro-encapsulated liquid and flowable liquids in different sized and shaped packaging ranging from 20-gram foil packets to 500-kilogram containers.
Once packaged, crop protection products are shipped to North American and overseas customers. These products perform as designed to help protect property and specific crops against insects and weeds. Without products like these, farmers world-wide would not be able to produce abundant crops, food prices would increase and some food might not even be available. FMC is committed to being a partner with growers to meet the world's increasing food demands today and tomorrow.
Brigade WSB Insecticide/Miticide, Capture LFR Insecticide, Mustang insecticide, Pounce 25WP Insecticide and Triple Crown Insecticide are Restricted Use Pesticides. VGR soil amendment is not a pesticide. Always read and follow label directions. Command 3ME microencapsulated herbicide and Aim herbicide are not registered for sale or use in California. FMC, Command, Capture, LFR, VGR, Pounce, Triple Crown, Aim, Mustang, Brigade and Rovral are trademarks and Investing in farming's future is a service mark of FMC Corporation or an affiliate. Aria and Beleaf are trademarks of Ishihara Sangyo Kaisha, LTD. Transport is a trademark of Nippon Soda Co., LTD. ©2017 FMC Corporation. All rights reserved.
©2023 FMC Corporation. All Rights Reserved. FMC, the FMC logo and all trademarks, service marks, logos, business names and trade names are the property of FMC Corporation and/or its affiliates or licensors in the U.S. and/or other countries.