FMC's Middleport Plant is helping area farmers challenged by the COVID-19 economic impact with a special Farm-to-Table Program that features an opportunity to sell their local food products to FMC employees.
Over the next several weeks, an invited local farmer will come to the Middleport plant parking lot on Friday afternoons with products that have been previously ordered and paid for earlier in the week. FMC employees will then pick up the products as they leave work that day.
"The Farm-to-Table Program is an excellent opportunity to show our support for what local farmers do while also helping them to develop some new customer relationships with people who may be unaware of their specific products," said Dr. Roberta Kloda, FMC Middleport Plant manager, who first created the plant's Farm-to-Table concept. "We all just want to do whatever we can to assist them because, without the farmers, we are all in trouble."
The first local farm to participate was Aggravation Acres in Newfane offering both duck and chicken eggs, and the second was Maverick Farm Organics in Lockport, featuring a wide array of spices, eggs and baked goods.
"I think this is great opportunity for our farm to show what we can do and build our customer base," said Tina Kowalski, Maverick Farm Organics owner. "It also shows how small farms work together and support each other."
More than 35 FMC employees have participated in purchasing local products through the program. Approximately 15 farms are on a list to be invited to bring their products to the FMC table.
"I am pleasantly surprised at what an initial success this has been with our employees here in Middleport," Dr. Kloda said. "And we look forward to building upon that success in the weeks ahead."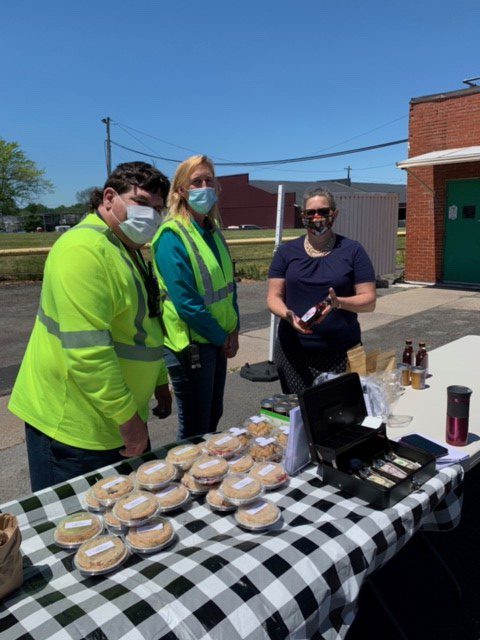 FMC Middleport employee Joe Burkett (left), union steward with Local 1180 of the International Association of Machinists and Aerospace Workers; and Dr. Roberta Kloda, plant manager, check out the assorted baked good and products offered by Tina Kowalski (right), owner of Maverick Farm Organics in Lockport, for purchase by FMC Middleport employees as part of the plant's new Farm-to-Table program this summer to help local farmers challenged by COVID-19's economic impact.