Katie Russell has been named manager of FMC's Agricultural Sciences Plant in Middleport. The local Agricultural Sciences plant formulates and packages a number of key FMC product lines to protect over 100 crops in more than 75 countries worldwide.
Russell joined FMC in 2017 as part of its Technical Center, which supports FMC's global network of manufacturing sites on improvement projects, introducing new products, and driving process safety.
"I am excited to be joining the FMC Middleport team as the plant manager and to engage with our local community as we continue to grow our operation," she said.
A native of Doylestown, Pa., Russell has a bachelor of science degree in chemical engineering from Villanova University. She began her career working in a series of process engineering roles in industries ranging from nuclear power to metallurgical coke manufacturing.
She also worked in project engineering roles in developing small capital projects, overseeing a $30 million equipment repair program, and establishing procedures for the project development process.
At FMC, she implemented a 50% capacity improvement project at the Middleport site and developed the global structure for the organization that supports FMC formulation and packaging sites similar to the Middleport plant. Prior to coming to Middleport, Russell was the production manager for one of the operating units at an FMC manufacturing site in Mobile, AL.
"My fiancé, Jack, and I are looking forward to exploring Western New York and adapting to winter weather through many snowy outdoor adventures with our puppy, Keith," she said.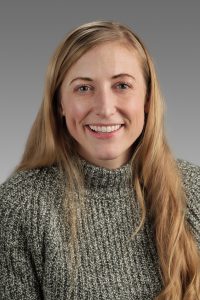 FMC Middleport Plant Manager Katie Russell