The FMC Middleport Plant donated eight pulse oximeters to the Middleport Fire Department for use in helping to quickly determine the health and wellness of individuals in emergency situations.
Pulse oximeters, administered at the fingertip, are medical devices used to measure a victim's pulse rate and blood oxygen saturation levels – vital indicators when firefighters and EMTs encounter an emergency situation.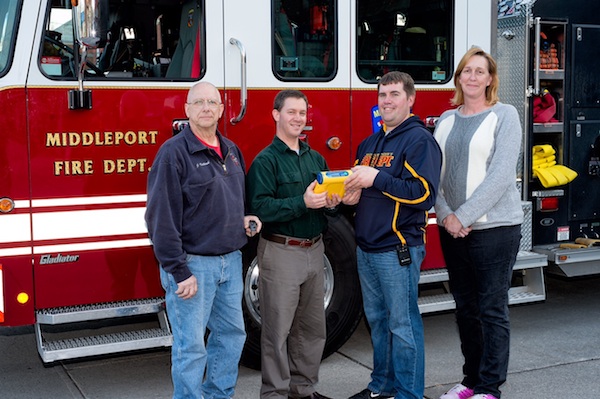 Former FMC Middleport Plant Manager Greg Sullivan (second from left) presents to Middleport Fire Department Chief Fred Srock one of eight pulse oximeters donated by FMC for the Department's use in responding to medical emergencies. They are joined by Jim Volkosh (far left), first assistant department chief, and Roberta Kloda (far right), Environmental, Health and Safety manager for the FMC Middleport Plant.