FMC Corporation, which operates the Agricultural Sciences plant in Middleport, has honored two Royalton-Hartland High School graduating seniors with individual $1,000 FMC Scholarships from the local plant.
The scholarships were awarded to Nadia White and Alexandria Stern, both of Middleport based on judging of their 350-word essays in which the students responded to the following question: "Who inspires you the most and how will this motivate you in your future career?"
FMC is committed to education and supporting students as they pursue their career aspirations.
"Having been recognized among the world's best employers, and one of the leading employers in our community, FMC is keenly aware of the importance of continuing education, particularly for careers in STEM (Science, Technology, Engineering and Math)," said Katie McFadden, FMC Middleport plant manager. "We're proud to honor two outstanding Roy-Hart graduates with these scholarships and we wish them much success with their STEM studies in college."
Nadia White, who is passionate about protecting our environment, will be following that passion through her coursework at the SUNY College of Environmental Science and Forestry in Syracuse, where she is enrolled for the fall of 2023. A member of the National Honor Society, Nadia earned an Advanced Regents Diploma, while taking on leadership roles and being very active in athletics – on the varsity swimming, varsity soccer and varsity track and field teams.
Alexandria Stern, who wants to devote her life to helping others through the field of medicine, plans to enter the physician's assistant (PA) program at Daemen University this fall. Alexandria earned an Advanced Regents Diploma at Roy-Hart and was a member of the National Honor Society, served as a leader in student government, while also playing varsity volleyball and varsity tennis.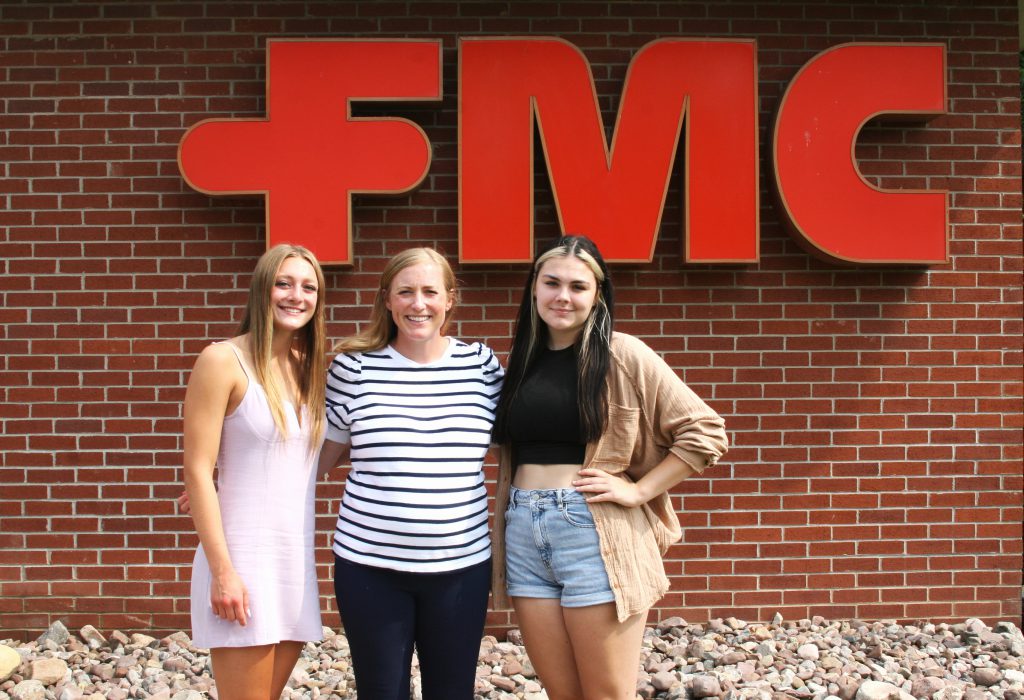 Photo caption:
Katie McFadden (middle), plant manager at the FMC Middleport Agricultural Sciences Plant, welcomes two Royalton-Hartland graduating seniors Nadia White of Middleport (left) and Alexandria Stern of Middleport (right) to the local plant. FMC awarded annual $1,000 scholarships to each student based on judging of their 350-word essays which responded to the following question: "Who inspires you the most and how will this motivate you in your future career?"