The team at FMC's Agricultural Sciences Plant in Middleport was very pleased to host two dozen FMC Middleport retirees at the plant for a very special "Retiree Day" on June 16, 2023.
Plant Manger Katie McFadden shared with the retired "FMCers" a brief presentation about the current happenings in and around the plant and the scope of its operations.  Then the group enjoyed a catered lunch.
There was a great deal of reminiscing and stories being shared as this group of retirees averaged 40+ years of service!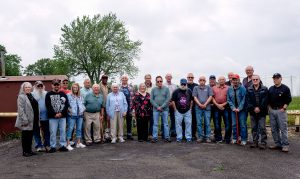 Included in this photo:
First Row:  Ed Doran, Sue Doran, Dick Prue, Jean Grant, Cathy Hooker, Dean Shingleton, Larry Demmin, Mike Szulis, Art Newton, Ed Dunn, Dave Millen & Mike Bieber
Second Row: Bonnie Difino, Bob Bobzien, Bob Wilcox, Fran Grabowski, Levy Hill, Harold Scribner, John Shuttleworth, Paul MacDonald, Dave Lawson, Wally Leonard, Tim Beck & Bob Wojcik.